About
New Beginnings Counselling & Psychotherapy Centre
NEW BEGINNINGS was established by Tom Moran & Christine Moran over 20 years ago. They are professional, accredited psychotherapists whose commitment is to assist individuals, couples, families / groups in resolving conflicts and restoring harmony, so that they can be well and happy in life and relationships. This is done by means of counselling, psychotherapy, supervision, education and training.
New Beginnings provides a professional, compassionate and confidential counselling & psychotherapy services.
Our Team Members
Meet the Team
MIACP, MNAPCP, MEAC, IACP Accredited Supervisor
It is my privilege to hold a confidential, non-judgemental space for you to explore and resolve issues that are causing you distress in your life – Relationships Self-esteem and self-confidence Childhood hurt and adult trauma Loss, bereavement and life disappointments Anxiety and depression Stress and worry Any other issues that are causing you concern at this time My desire is to professionally support you to become your own best friend through a therapeutic relationship of trust and safety and good practice. I work from an integrative, holistic and creative orientation and I am committed to meeting your needs as my client. Fee: €60 per session Phone Christine: 086 3282137
MIACP, MNAPCP, accredited Counsellor, Psychotherapist & Supervisor
My wish is that you will make contact with me if you are struggling at the moment. Taking the step to make contact and talking to me will help you get clarity of mind and help you focus on other ways of behaviour that will bring more satisfaction and joy to your life. It is my job but also my privilege should you choose to talk to me. Fee: €60 per session. Phone Tom: 086 2747900
Written by Christine
Dear Precious Being
Dear Precious Being is a collection of letters from me to you. I call you Precious Being because to me you are a precious being, a beautiful perfectly imperfect human being.
This book is written for people of all ages who are on a journey of self-discovery.
Published in 2009 by Book Hub Publishing
Buy Christine's Book 'Dear Precious Being' today! €10.00 P+P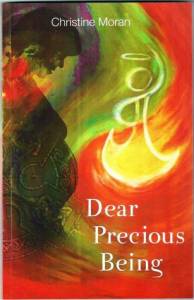 Testimonials
Words From Our Clients
When I first met you I thought I would never get over how I felt.... but I have come through it and feel great now
My wife and I are now honestly communicating for the first time in our relationship......
Many, many thanks for all your help, advice and most of all for listening to me and understanding what I was going through - it meant a lot
This is the first time I allowed myself to grieve, I felt understood......
I was struggling with depression, thanks to counselling, I am now taking control of my life......